Dear Anthropologie, This is getting kind of ridiculous,
Ever since I bought my super cute apron from you you have been stalking me. You won't stop sending me seductive emails, and at least once a month I open my mailbox to find you've sent me yet more photos of yourself. I will admit, they are beautifully shot and very creative and I may have been willing to continue simply sighing over their loveliness before throwing them in the trash, knowing that you and I shall never have have more than a mild flirtation. You prefer women with money to burn.
But with this month's decorating themes you so kindly sent to my inbox I can no longer keep silence. Anthropologie, I hope you don't take this the wrong way but, it's time to get over yourself. Really.
Your new home decor line titled
recycled
? Let's talk about this.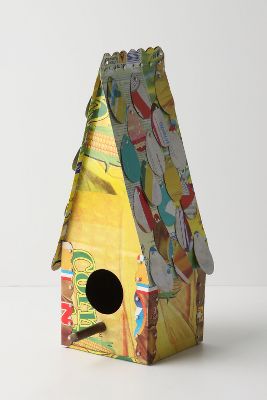 My kids could make something that looks exactly like this, for free. All you need is a pair of tin snips and some rivets. Or failing that some glue and cereal boxes for the exact same look.
Do you really think I'm going to pay $60 for something like this, which most people will probably never put where birds can live in it?
But that's not all, no.
There is this.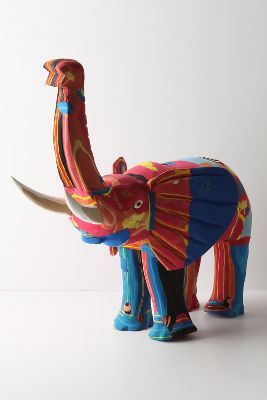 An elephant carved out of flip flops that washed up on the beach in Kenya. For $298. Are you freaking kidding me?
You want people to pay $300 for a carved up flip flop? Even if I thought all of the money was going to the artist, which it's not, let's just be honest here Anthropologie, they aren't seeing half of it, this is completely ridiculous. It's a rubber elephant. I can find 20 like it at a world market for less than $20.
Behold, the Magpie Chandelier. Want to guess the price? Go ahead.
$4800 plus $259 shipping for something that looks like it was made out of all the stuff I can find in my mother's craft closet, including the old chandelier with wiring attached. I mean really, it is sort of charming. But it's made out of galvanized wire and found items. Anyone who can string beads on wire and can find their way through a hardware/craft/thrift store could make this themselves for less than $200.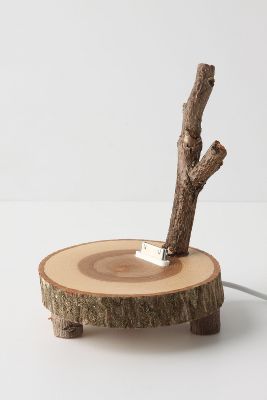 This I-phone dock, for only $98, reminds me of something my little brother made from woodpile remnants when he was 10. Only his was better. It's a hunk of wood, with a branch glued to it, and an iPhone charger glued in through a hole drilled in the bottom. If the desire ever seizes me for an item like this, which it won't, I will pay a Boy with a saw to make it for me.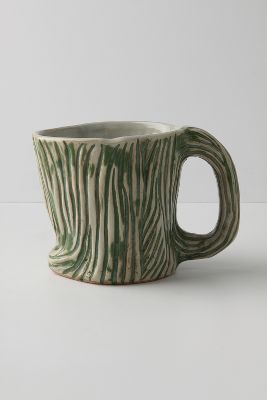 Ditto for this, which looks remarkably similar to my first ever attempt to create anything out of clay.
I could go on, you provide so much fodder, but I have other things to do. Like figure out how to get people to pay me exorbitant prices for stuff I can make out of trash. Toodles.