Giving of Life
In May the Charis Project was featured at a thing called the Entrepreneur Forum, which is the brain child of one of our board members. It was really cool and we got quite the response from people who are excited about the work we're doing and the orphanage model we're working to implement.
We sent a mail out afterward telling people we need $72,000 over 6 month period in order to move onto phase 2 of the project. This is the push needed to become almost fully self sustaining as an organization that builds orphanages that are self sustaining that help communities become self sustaining that makes it so that orphanages are no longer needed in that community and we begin again somewhere else.
Well, we haven't been handed a check for that much, yet. But we could, with your help.
The Charis Project is eligible to win a
$50,000 grant from Giving of Life
. Of course, there are lots of other organizations in the running as well. The 10 with the most votes at the end of the voting period, just under 4 months from now, will be reviewed by a committee to receive 3 grants of $50,000, $30,000 and $10,000. To see what we would do with that kind of money got to
thecharisproject.org
and click on budget 2011 under the Invest header. (One of those things would be getting a better website, but that's toward the bottom of the list.)
Winning this grant would be completely awesome.
Will you help us? It only takes a second. Click over to
http://givingoflife.com/browse/the_charis_project/
and vote. To get more votes, register. To get even more link up facebook or twitter.
Then, please share with everyone on facebook, and all your twitter followers, and if you write a blog you could even let your blog readers know we need help. It only takes a second, and it could help in a big way.
I've even got a giveaway for you.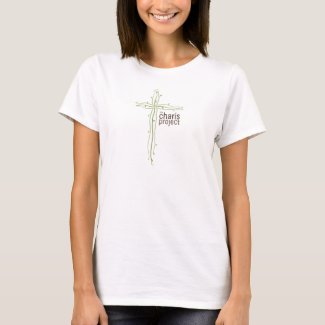 Charis Means Gift
by
TheCharisProject
See more
Charis T-Shirts
I've newly created a zazzle store. This T-shirt has the Charis project logo on the front. After you've voted and shared on facebook and twitter,
like our facebook page
and leave a comment telling us you did and we'll enter you into a draw for a free, and awesome t-shirt. Unless you'd prefer a mug, or a tie, or a key chain. I'll close the giveaway on July 31. We'll have another one next month.