I have been wanting to tell you all about the Boy's Hobbit party. However, since I forgot to take many photos, given all the other things going on, I was waiting until people, like my talented sister in law, got me some of the photos they took of the party so I could show you, as well as tell you. (Assume if it's a great shot and isn't in my instagram feed that she took it.)
All great parties start days before with the baking. Especially Hobbit parties. Hobbits love their food.
This is the menu we chose, out of all the things hobbits would enjoy. We feel it got the basic elements.
For afternoon refreshments
Lemonade
Pretzels
Water
For the Birthday Feast
Pork pies
Potato Soup – with bacon and cheese on top of course
Rustic loaves of fresh baked bread.
Sauteed mushrooms
Roasted vegetables, tubers, brussel sprouts, carrots, yams, etc.
Home made ginger beer. (The Boy made it himself)
For Dessert
Tiny apple and pumpkin tarts
Seed Cake – (I found an old Victorian recipe that was probably close to what Tolkien had in mind on the internet. It has caraway seeds in it, and definitely improves over a day or two in flavor.)
Mounds of fresh whipped cream
Fresh Blackberries and strawberries
Hot Spiced Apple Cider
Food for the Journey (The Road goes ever on and on…)
Mini seed cakes
Fruit flavored gummies. (Trader Joe's)
Lollipops (Trader Joe's)
This was arranged as a little candy bar for guests to fill bags from as they left.
For pork pies I just used a turnover method that my mom used to make when I was little and packed in lunches. Pastry, cut in circles, filled, and then folded in half and pressed together with egg white.
It was a team effort.
The Boy's Auntie Haven made the fruit tarts. (He has the best aunties.)
She took this picture.
The mini seed cakes.
I used the basic recipe from Artisan Bread in 5 minutes a day, and just made all the loaves at once the day of. the best part about this recipe is that there is absolutely no kneading. Just stir, rise, shape, let rest, and bake.
I was a dolt and didn't even think of taking pictures of the food when it was all ready. So this photo of my friend Suzy, in her awesome costume, with some of the table behind it is the best shot I have.
Isn't she marvelous?
My in-laws went all out with the decorating of their property to be the shire.
It was a warmish day so my MIL set up shady places to rest. (He has the best Beema too.)
As with the food, the party was in 3 stages.

2pm – Lawn Games and Tournament
Lawn bowling, with no lawn.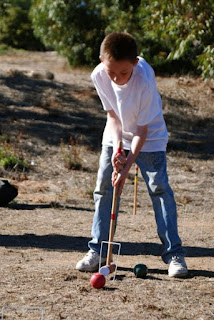 Croquet
Me as an elf. Don't laugh too loud please.
Smallish hobbit receives his ball from a man of Gondor.
My son has the best uncles ever, seriously.
Small hobbit girl sounds the horn for the start of the tournament.
An easterling looks on.
Indiana Jones discovers he's on the wrong set. (My FIL pretended to read the invitation wrong.)
This magical container dispenses lemonade on command!
Seriously. The BEST uncles.
The Boy fashioned 8 swords as gifts to his friends out of spindles from a broken chair, cardboard, and duct tape. (Hobbits give gifts on their birthdays, rather than receive them.) I failed to get a picture of them close up. They are awesome.
5pm – Feasting
The setting.
Grandma Sue, check out her etsy shop Ladybug SueBee's, lent me all this bunting. She says she can't sell these because they aren't uniform sizes and she made them for Brenda's green party. It was so kind, and it made this part of the party look so cool. And I only had to scold one boy for attacking them with a sword.
Kid sized seating arrangements under the trees.

6pm – Dancing followed by a Bonfire and the sharing of songs, riddle and poems. To coincide with dessert.
What can I say? My kid is a careful reader, and wanted all the hobbitish details.
Most of the kids really got into the dancing. Even the boys. My favorite part of the whole evening was watching the Boy dance with Little, who only wanted him, for 3 whole songs. He was a very attentive partner. My mama heart just soaked it all in, squeezed hard once or twice and maybe teared up just a tiny bit taking in that scene.
I have no photos of dessert, because it was after dark, just imagine mounds of whipped cream, berries, cake and those tarts from up above.
And then there was fire, and lots of riddles, and some poems, and one song. Then we sent our guests on their way with food for the journey.
The Boy is so blessed to have family and friends who will cook and decorate, and sword fight, and dress up all to honor him on his birthday. Well, and to have a jolly good time as well.
The hardest thing about throwing this party was that it was so cool I wanted to invite all my friends too. We will have to have another one day, and do just that.
all content © Carrien Blue